Portrait Photography Sessions Los Angeles CA
Lori Dorman and Co. includes a staff of over 20 highly creative females that work collaboratively on all of our shoots and have a similar signature style and vibe - that is one of the reasons we are available to shoot 7 days a week! This also enables us to give you the highest quality photo shoot available.
Your shoot will be carefully and thoughtfully processed by at least six members of our staff. From your photographer who will call to greet you within 24 hours of your booking and get to know you. To your personal assistant who will help make your shoot even more comfortable, to your pre-selector who is professionally schooled in art and is highly experienced selecting the best photos, to your editor that will customize and enhance each and every picture, one at a time, by hand.
Your main contact person will help guide your shoot every step of the way. Your designer will help you to create beautiful artwork to display or send out as birth announcements. And last, but not least, Lori Dorman oversees every shoot to make sure that it is the best as possible and gives it her stamp of approval.
We serve families throughout California and across the nation, as well as internationally. We sincerely hope that yours will be one of them.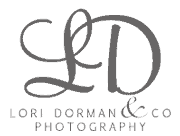 Interested in Booking?
Tickle your creative genius by booking your
Lori Dorman and Co. photo session.

Call +1 (818) 247-0200